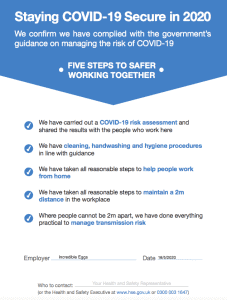 We have conducted a thorough risk assessment of our practices and procedures to ensure our company is Covid Secure. Part of this assessment has resulted in us adapting our delivery/collection procedures during 2020. This is in order to meet current government requirements for social distancing to minimise the risk of transmission to both our employees and our customers.
We will deliver your hatching kit and show a member of staff outside the premises and at a safe distance of a minimum of 2 metres how to set the kit up. All equipment can then be taken inside and set up by your own member of staff. We will also provide a comprehensive downloadable guide to ensure you have all the information you need once inside your setting to correctly set up your kit. All equipment can be brought outside to our member of staff at collection time.
Eliminating anyone from our company entering your premises and maintaining safe social distancing measures ensures the delivery and collection of your hatching kit will present no more of a risk of introducing Covid-19 to your setting than taking delivery of any other parcel/package.
Subject to your location, it's definitely not too late to book a hatching kit. And if you're a parent with children now at home and looking for an amazing educational experience to keep them fascinated for 10 days, you've come to the right place!
Please note: Due to the impact of COVID-19, our Scotland, North and Midlands branches are no longer taking bookings for 2020.
Our very best wishes to all at this difficult time, from all at Incredible Eggs.