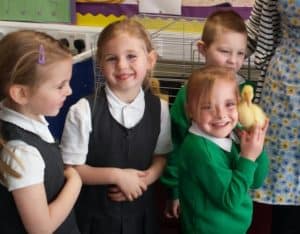 In support of the recent government lockdown measures, we are cancelling all bookings with delivery dates during the 3 week lockdown period. Although schools and nurseries are now largely closed, we are aware that most settings will remain open to the children of key workers and the most vulnerable pupils. The good news is we are continuing to take bookings for delivery after this period. Our focus remains on the well-being of our birds, employees and our customers and supporting the wider community. This means that in the interests of health and safety, we have adapted some aspects of our service – you can find out more here.
We are now in the process of contacting all those whose bookings are affected. Please bear with us during this exceptionally busy time. We ask that only those settings with hatching kits already in situ contact us by phone at this time, as we need to keep our line free to facilitate collections.
It's definitely not too late to book a hatching kit for later in the year. And if you're a parent with children now at home and looking for an amazing educational experience to keep them fascinated for 10 days, you've come to the right place!
Our very best wishes to all at this difficult time, from all at Incredible Eggs.